Services

Auto Body
Using the latest collision repair technology we will repair your vehicle to its pre-accident condition.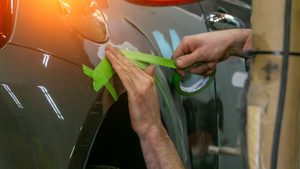 Body Work
The proper repair of collision damage is critical to the long-term safety and performance of your vehicle. Our professional auto body repair technicians have the skills, training, and tools to correctly perform the collision related repairs that your vehicle requires. We inspect each vehicle to ensure that your vehicle is repaired to the proper specifications in our collision repair facility.
Body work includes fixing dents, repairing frame damage, replacing broken or missing parts, and eliminating rust; and often requires specialized training and equipment. The best paint jobs always start with properly performed body and prep work.
Choosing a shop
Most states have laws that protect the consumer's right to choose the repair shop that will perform insurance repairs.

Be prepared as you consider which shop to entrust your vehicle's repair. Some questions you may want to have answers to before making a decision:

Does the shop look clean, organized and well-run?

Does the shop do a thorough inspection your vehicle before quoting the repair cost?

Have you been presented with options?

How long will the repairs take (beware of a too-good-to-be true turnaround time)?

What does the warranty cover?

Have they asked about your expectations? (simple scratch repair vs. high-end restoration, etc.)

For most paint jobs, you may be best-served by choosing a locally-owned shop that has a good reputation for quality of work and service.

Most reputable shops use quality paints and best-practices to achieve superior results vs. bargain-basement shops.